On the 10th of November we officially announced the results of the DECODE Award Competition in Faur Zsófi Gallery. The exhibition of the selected projects can now be visited virtually. DECODE Foundation for Contemporary Architecture and Art organized a competition and exhibition in the categories of architecture and visual and applied arts. The initial aim was to highlight the importance of thought-based design and value creation. A professional jury selected the exhibitors and the winners out of 62 project entries. The Foundation nominated a total amount of 1.200.000 HUF in the two categories: one Main Awardand two Promising Project Awards for both categories. This was the first year to hand out DECODE Spotlight, a special award to appreciate creative designs that support or serve society. Due to the restricted conditions of the virus situation only the winners and the professional jury were present at the official opening ceremony that was streamed live for further virtual visitors. Special supporters of the DECODE Award and the exhibition are: PERI and Be Light!, its media partner is Octogon Magazine, supporters: Alukönigstahl, Magyar Építő and Szinorg. This year the exhibition can only be visited online on the homepage of DECODE for a whole year starting from the opening ceremony.
What is DECODE?
DECODE – The Space for ARTHITECTURE initiative aims to draw attention to the significance of thought-based creation. There is a genuine concept behind each groundbreaking artifact, sculpture or building that make an impact. This concept can be a feeling or a story that acts like a guideline throughout the creative process. The title – DECODE basically refers to the importance of being able to decipher and admire the worthwhile ideas and stories that are incorporated in the objects around us.
How the idea of DECODE exhibition was born?The idea of DECODE came from BORD Architectural Studio. The aim of the studio is to focus on the already existing values of the location as inspiration for the actual work thus providing a strong and unique character to its buildings. The architectural studio designs all its projects around stories which inspire the architectural concepts so as to create places with special vibes and buildings with specific characters. Since 2020 Decode Foundation of Contemporary Art and Architecture is the organizer of DECODE Prize competition, they nominate the prizes and arrange an exhibition called DECODE – The Space for ARTCHITECTURE from the winner projects of the competition.
DECODE 2020
DECODE Prize competition is organized for young creatives from the fields of architecture, visual arts and applied arts. Applicants were invited to introduce an own project from the planning or inspirational phase to the actual implementation focusing on the concept that had to be presented in a media file not longer than three minutes. A total of 62 entries arrived to the competition: 22 in the architectural and 40 in the arts category. The entries were judged by a jury of prestigious professionals: Peter Bordas, Architect, Founder of the Competition and Head of Jury; Levente Szabo Phd, DLA, Ybl- and Pro Architectura Prize awarded architect, Head of Department at Technical University of Budapest, Faculty of Architecture; Anthony Gall Phd, Ybl- and Pro Architectura Prize awarded architect,  professor and appointed Dean at Faculty of Architecture, Óbuda University Ybl Institution of Architectural Engineering; Janos Golda, Ybl, Pro Architectura and Prima Prize Architect; Borbala Kalman, Art Historian, Curator of Ludwig Museum – Contemporary Museum of Arts; Etentuk Inemesit, Founder of Artlocator Application and Artlocator Magazine; Krisztian Kukla Phd, Art Director of  Art Quartet. The jury gave one first prize and 2 'promising project' prizes in each category. The total sum of the competition prizes in both categories was a net amount of 1.200.000 HUF. This year, thanks to Be Light! the jury gave out a special prize too. DECODE Spotlight Special Prize is given to the creative projects that serve and support society with their creative design.
What can be seen at the exhibition?
At DECODE exhibition one can admire a selection of architectural and artistic designs with genuine ideas and unique concepts. All projects are screened on large monitors at the exhibition. Apart from the winner and shortlisted projects of DECODE Prize competition two additional guests are also traditionally invited to present themselves. This year these are: the House of Music that is being built in Varosliget by Sou Fujimoto Architects and the transformation of Lónyay-Hatvany Villa by BORD Architectural Studio.
How long is DECODE exhibition open?
This year due to the restrictions the exhibition is only open to the public online. It can be visited free of charge on the webpage of DECODE for an entire year after the opening ceremony.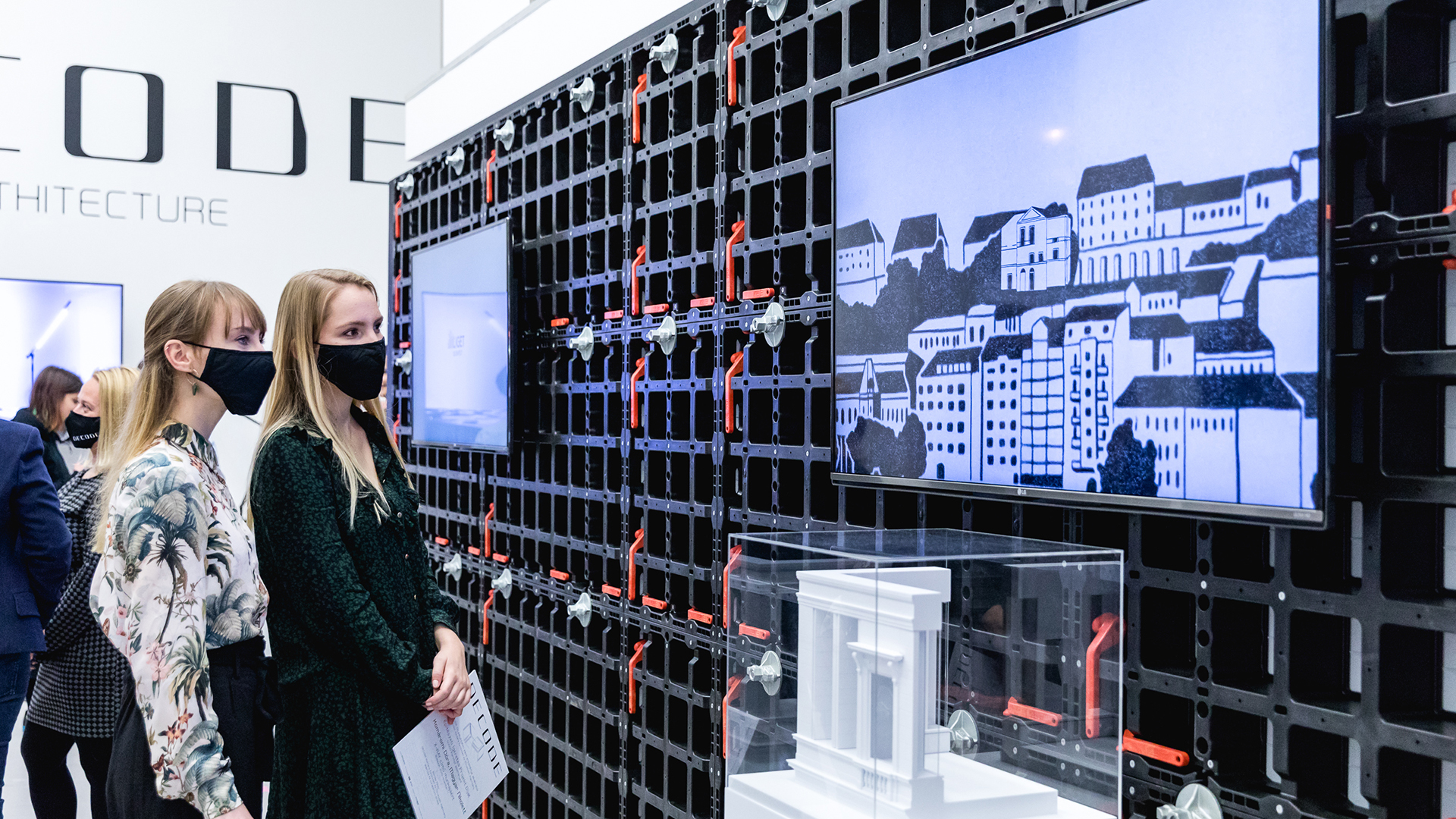 Award-winning projects of DECODE competition in the category of architecture
HOME – Winner of DECODE Award – by Anna Ditta Fehér
 "'explore.preserve.enjoy'- these three words represent the context I adopted in my daily life. Originally I'm an architect but at the moment I work as a teacher. To be honest, I'm mainly an adventurer and explorer. Art for me is an intuitive way of life, a language, with which I can connect to the things around me: I can explore and preserve them in some way. In the meantime I really truly love what I'm doing should it be architecture, teaching, traveling, cooking or admiring a creek on the wall.
KINTSUGI-HOUSE Transition home for the homeless – Winner of DECODE 'Promising Project' Award – by Flóra Offra
"My name is Flóra Offra, I studied architecture at BTU. During my BSC Course I spent six months in  Strasbourg where I had plenty of breakthrough experiences. My project work is really my diploma work of my BSC course. At the moment I'm completing my master's degree in the architecture faculty of MOME.
 X RAY – Winner of DECODE 'Promising Project' Award – by Dóra Komáromi Dóra, Nikolett Magyar
 "We are Dóra Komáromi and Nikolett Magyar. We are students at the Department of Architecture in the Technical University of Vienna. Although we've known each other for a long time this is our first common project in which we had to work virtually. Searching for innovative methods and experimenting with the traditional forms and approaches and redefining them are important for both of us."
PLEXI PLAY – Winner of DECODE 'Spotlight' Award – by Balázs Bata, Nóra Ludányi, Máté Manda, Tamás Molnár, Balázs Szigetvári
 "Our team comprizes of architecture students and architects. We have known each other from Architectural Club College for Advanced Studies. We have a history of common projects and competitions, also we had worked a lot together in the college in a number of projects that were related to architectural and social issues. We are interested in all sorts of professional topics  and related areas. In these lockdown stricken times we have been particularly gripped by the virus driven changes in the use of spaces."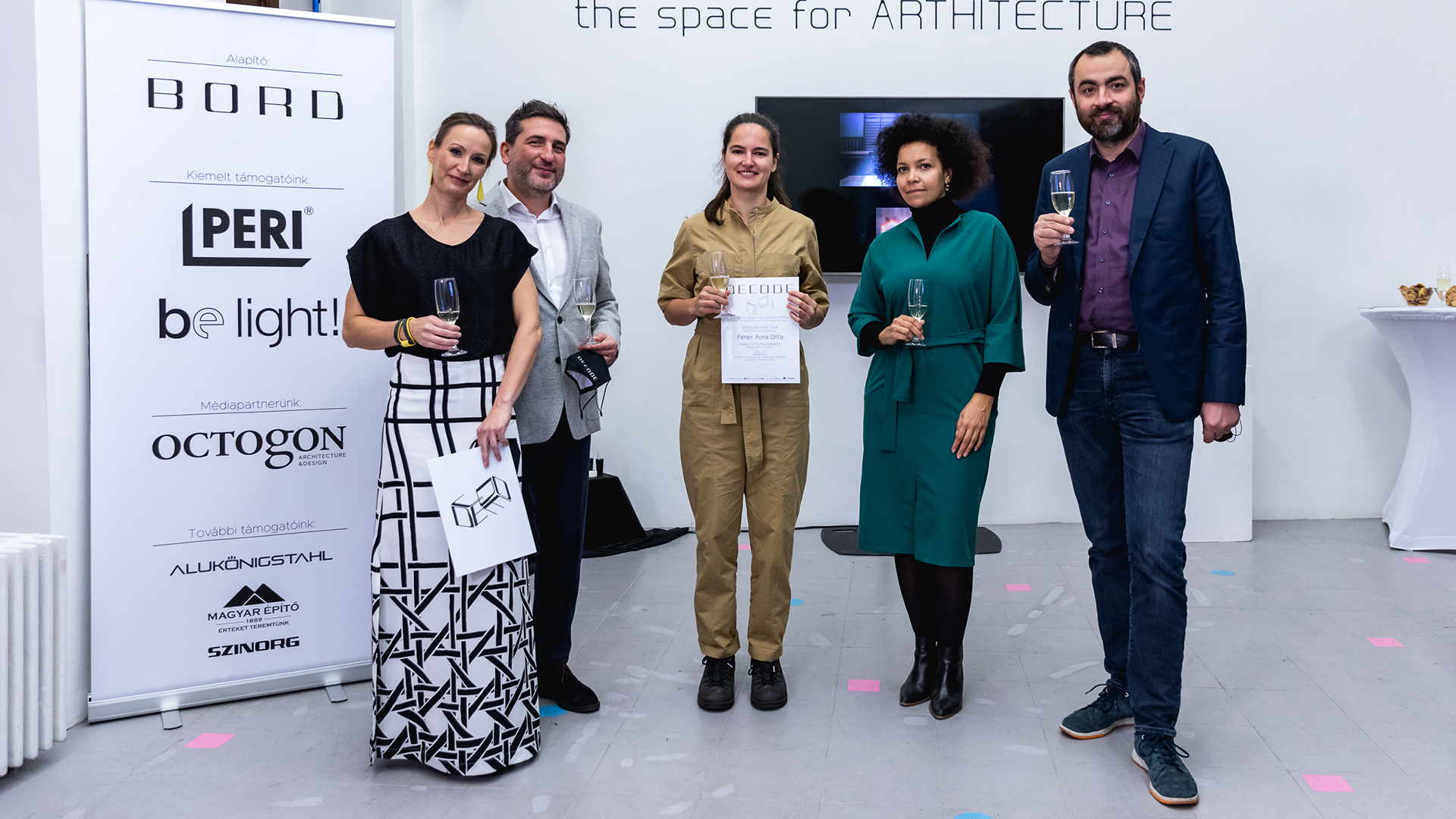 Award-winning projects of DECODE competition in the category of applied arts
GENIUS LOCI – Winner of DECODE Award – by Eszter Nagy
 "My name is Eszter Nagy, I was born in Miercuera Ciuc. I studied stage and costume design in  Targu Mures and Budapest. My father was an artist. His sudden death destroyed everything I believed to be reality. I felt that I did not only loose him but my relation with art too. Preparing for this competition was a self experimental process for me through which I had to face all my traumas so far. The result of this is a 15 minute video performance and the presentation of this. The locations in the video are such stages of my life that connect the past and the present: the bar where I work or the restaurant in front of which my father had collapsed. These are all similar spaces. Music had a significant role throughout the project. The crude and explicit remake of Mike Nylons helped me enter the state in which I could express and let out all my rage. The song of Omega: Black Butterfly has a symbolic meaning to me. This song was played at the funeral and it represents everything I tried to struggle with throughout the accomplishment of the project.
PHASE IN PHASE OUT – Winner of DECODE 'Promising Project' Award – by Judit Eszter Kárpáti DLA
"I am Judit Eszter Kárpáti, textile artist, co-founder of  EJTECH Interdisciplinary Studio  and scientific researcher of the Creative Technology Hub of Moholy-Nagy University of Art.  I research the interwoven connection of music and texture. I decipher textile, sound and space as one universal medium through the multi channel, electro acoustic alteration of textile based on sound compositions performed by textile sound installations."
LINES – Winner of DECODE 'Promising Project' Award – by Ádám Boruzs
 "I like to think in a conceptual and multimedia way that encompasses the areas of art, video/film, music and installations. My works deal with the intervals of visual or audiovisual perception and counter perception. I am concerned by such phenomenons and abstract ideas that connect art and science in a metaphorical way. Time, light and matter appear in my works in a holistic way creating a personal creed, a philosophy."